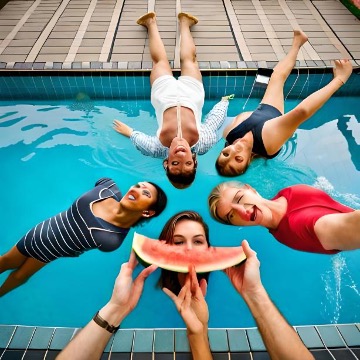 This is the season of the Summer Office Party – woo hoo! – one of the few times a year that some companies gather to hang out and get to know one another; a social cocktail of liquor, chlorine, watermelon-crazed bees and dissolved office hierarchies. Companies may also have a Holiday Party (liquor, egg nog and dissolved office hierarchies) and/or an annual meeting (coffee, liquor and reinforced office hierarchies) but that might be it for the human side of so-called corporate "culture".
Almost every company (except, perhaps, Twitter?) says, "our strength is our people" and when you get to know companies like we do, that's abundantly clear; super smart, charming, quirky, resourceful – there are amazing people in every corner of your business. But very few companies actually cross-pollinate this essential resource. What I mean is that the culture of the company, not to mention the market-slaying mission and evolving innovations, must be disseminated/pollinated from the C-suite to the front line and across offices and regions for the company to function coherently and deliver the brand with the latest ideas. Also, for everyone in the company to feel like they're part of an impressive and inclusive team in which any one of them could become, even briefly, a rockstar.
So, this is about internal communication, a phrase that carries the excitement of an IV drip, but should actually be more like a vibrant, branded, social media platform within the company.
Your company is full of experts, people who know a lot about their niche of the business. That expertise is valuable IP unknown to anyone but the expert's close associates and mildly interested loved ones. Your company is full of characters, people who describe their niche of the business with unique, idiosyncratic color and energy. That color and energy is untapped, unapplied to the brand, except, perhaps, annually, after a few drinks poolside at the S.O.P.
Moreover, your company has new strategies, ways-of-working and front-line feedback to share across the offices and, while it's important for the C-Suite to establish their leadership, it's often most effective for messaging to be carried by a variety of faces/voices across the firm. At Pickerel Pie, we've produced a lot of content like this for our clients and have seen the impact.
Put your people on camera. Create formats that are short, energetic, consistently branded and crisply edited so that the objective of the video is clear, the delivery is painless and everyone on camera is a rockstar. Distribute the invaluable, fascinating, culture-reinforcing IP of your people all year round.
You can use an app like Gather Voices to enable staff to make (and you to collect) their own "selfie" videos but I think it's important to help your people be their best on camera (and deliver the content you need) and so, even a simple 1-camera shoot or an enhanced remote video capture (see our thoughts about that approach here) will deliver better material and make even your wallflower staff feel more confident about putting themselves out there.
Then, relax at the Summer Office Party, don't interrupt the vital pollination work of those bees and have another watermelon daquiri.